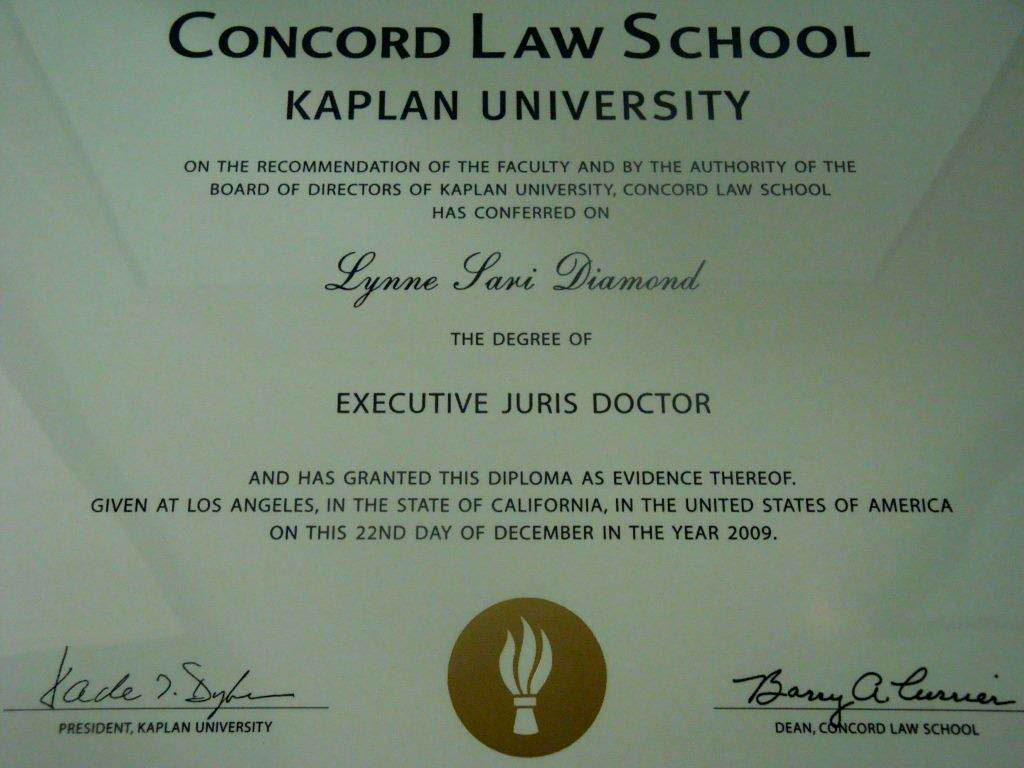 FOR IMMEDIATE RELEASE: Los Angeles, CA, March 29, 2010
Lynne Sari Diamond of Laguna Hills was awarded an Executive Juris Doctor degree during a commencement ceremony for Concord Law School of Kaplan University, the nation's leading fully-online law school, on February 27, in Los Angeles. The graduating class included 72 graduates of the Juris Doctor program and 30 who earned an Executive Juris Doctor degree.
Concord Law School has helped define the future of legal education by making it accessible and affordable for working professionals seeking to attain a professional law degree," said Barry Currier, Concord's president and dean. "Lynne, like many Concord students, led a highly professional career while studying for the law. Concord fills a significant need in legal education by providing students like Lynne with an opportunity to get a rigorous legal education without having to put their careers on hold. It enables many to fulfill their dreams of giving back to the community or making a significant contribution to the legal profession."
Ms. Diamond owns the Newport Beach-based business known as Divorce Wizards, Inc., which is a divorce mediation and document preparation business formed in 1997. "My legal education coupled with my fifteen years in the business gives me the confidence and skills now to specialize in high conflict divorce mediation," says Ms. Diamond. She also holds a Master's in Education and a Master's degree from Columbia University and a Bachelor's degree from Carnegie Mellon University.
Arthur R. Miller, LL.B., one of the nation's preeminent legal experts, delivered the graduation address. Mr. Miller, who served on the Harvard Law School faculty for more than 35 years, sparked controversy in 1998 when he filmed video lectures for Concord Law School. His early support of--and contribution to--Concord Law School generated media headlines as universities confronted intellectual property issues raised by Internet-based education. His lectures continue to be part of Concord's curriculum.
About Concord Law School
Concord Law School was founded in 1998 and today has 1,500 students across the country and around the world. Since Concord's first graduating class in November 2002, more than 1,000 students have completed the JD and EJD programs. The formal merger of Concord into Kaplan University in the fall of 2007 made Concord the first online law school to be part of a regionally accredited institution of higher education. Kaplan University is accredited by The Higher Learning Commission (HLC) and a member of the North Central Association of Colleges and Schools. Concord is also accredited by the Accrediting Commission of the Distance Education and Training Council, a nationally recognized accrediting agency. Additionally, Concord is an institutional member of the Council for Higher Education Accreditation and the International Association of Law Schools. For more information, visit info.concordlawschool.edu.
Press contacts:
Holly Barnhill, holly_barnhill@concord.kaplan.edu, tel. (310) 689-3216/cell (818) 406-0561