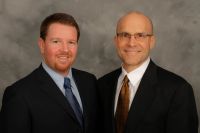 Just as everyone knows that drinking milk is good for your health (although some in the medical field and all vegans might disagree); there is no argument in the divorce industry that a well prepared valuation for a small business is imperative to properly structuring a divorce settlement. To overlook this critical aspect of a divorce is to ignore what is often the largest asset in the division of assets.
Too often, a spouse may not know the value of the other spouse's business or is told that it has "no value". As a general rule, an assumption should be made that the business has value until an expert tells you otherwise. The benefits of obtaining an appraisal by a qualified expert can easily outweigh its cost. We have found that such appraisals generally cost between $2,500 and $10,000, but the values of the businesses often range from $100,000 to more than $1,000,000.
Never should a spouse agree to a property settlement before an appraisal has been performed on the business by a qualified business valuation expert. The qualifications for such an appraiser should include the certification of a CPA (Certified Public Account), since most family law judges will give little weight to the opinions of those not holding the CPA designation. In addition, you'll want to have an expert with valuation specific credentials, such as the ABV (Accredited in Business Valuation) designation offered by the American Institute of Certified Public Accountants and/or the ASA (Accredited Senior Appraiser) designation offered by the American Society of Appraisers. Appraisers who specialize in valuations have the education and experience to draw from to give you the best opinions and have knowledge of the resources to research and present the values to improve your chances of proving the value in court. "Winning" in court can mean $100,000's in your pocket.
Lastly, the appraiser should offer competitive rates, quick responses, and outstanding customer service. Often the appraiser is a CPA with extensive knowledge and experience in valuations but is highly priced, takes months to prepare his or her reports, and never communicates with the attorney or client. Nobody is "Winning" in this scenario except for the valuation expert. Don't let it happen to you.

Reitz & Morton is a valuation and forensic accounting firm offering business valuation, forensic accounting, and litigation support services throughout the Orange County, California area, and nationwide. Reitz & Morton specializes in performing business valuations and forensic accounting in the context of marital dissolution matters. At Reitz & Morton we pride ourselves on delivering a quality product at an affordable price in a timely manner. We are a family-owned business that has been in business for over 38 years. Visit our website at www.ReitzMorton.com to find out more about our company or call us at 714-437-5500 if you would like to ask us any questions at no cost to you.